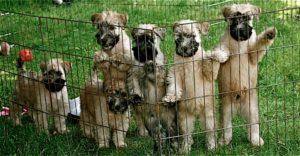 The selection of a breeder is an important one. We encourage any prospective Wheaten owner to become familiar with our Breed, the Standard, possible hereditary defects, and breeding ethics prior to contacting any breeder, whether on this list or not.
All of the individuals listed in the Breeders List are DVSCWTC members in good standing and have agreed to abide by the SCWTCA Code of Ethics. Breeders may choose to list a recent litter or that puppies are expected soon; however, not all breeders choose to do so. If you are looking for a puppy, you may want to contact all breeders in your area.
The Delaware Valley Soft Coated Wheaten Terrier Club (DVSCWTC) does not endorse, recommend or warrant any breeders or dogs included on the Breeders List or a litter listing included therein, and DVSCWTC assumes no liability for the listings of breeders or litters. Participants in the Breeders List including but not limited to those who list a litter on the DVSCWTC website agree to hold DVSCWTC harmless from any and all liability associated with the Breeders List and to indemnify DVSCWTC for any costs incurred defending legal and any other actions resulting from the listings or their placement actions. Accordingly, there is no written or implied recommendation of these breeders by DVSCWTC nor is there any guarantee of the services of said member.
Members with litters are noted in BOLD
Kester, Lynne & Barnes, Ken TAPESTRY
Green Lane, PA
267-374-1054
lkestersphr@gmail.com
Bendelewski, Denise DHOWDEN
Magnolia, DE
302-335-3635
dhowden@aol.com
Cronin Kerby, Denise  KINSALE
Setauket, NY
631-675-6822
kinsale1976@yahoo.com
Heckman, Jim & Erma  COVENTRY
Pottstown, PA
610-326-7769
ejheckman5@aol.com
Heller, Kate KADEN
Rockaway, NJ
973-983-9113
kheller1@optonline.net
Ivler, Barry & Bonnie CHARMAX
Morganville, NJ
732-972-7999
bjivler@gmail.com
Jamiolkowski, Liz & Mike  CLOVER
Cedar Grove, NJ
973-783-9005
ljamiolkowski@yahoo.com
Manning, Joanne O'MANNION
Plymouth, MA
617-642-5888
omannionswheatens@gmail.com
McDonald, Kevin & Beverly GREENTREE
Manahawkin, NJ
609-698-9590
greentreewheatens@comcast.net
Greentree Wheatens Website
Miller, Jill CHARM
Saegertown, PA
814-282-9127
Charmwheatens@gmail.com
Neill, Thomas & Wendy LONESTAR
Collegeville, PA
610-489-4048
lonestarwheatens@comcast.net
O'Keefe, Stephanie BALLYBAE
New City NY
845-638-3460
ballybae@yahoo.com
Robinson, Shari & Sydney KEEPSAKE
Osgoode, ON Canada
613-818-0042
keepsakewheatens@gmail.com
Serafin, Shelly & Ray TRINITY
Manasquan, NJ
732-223-0142
trinitywheatens@gmail.com
Cherie Turner FROLIC
Crownsville, MD
410-923-1247
frolicdogs@verizon.net